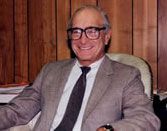 Newark Injury Law Firm of Kirsch, Stone & Morgan.
Kirsch, Stone & Morgan. was founded over 60 years ago by attorney Ned Kirsch. Ned was recognized as a "Legend" in the field of personal injury and workers' compensation.
With the passing of Ned in 2003, the firm came under the guidance and leadership of Managing Partner Gregg Alan Stone, who continues to grow and build the reputation of our workers comp, personal injury, medical malpractice, and auto accident law firm in Newark.
Gregg has been named one of the top 5% New Jersey Civil Trial Attorneys by New Jersey Monthly Magazine, and top 100 Trial Attorneys in New Jersey as reported by the American Trial Lawyers Association.
Accident and Personal Injury Law Firm in Newark
The firm specializes in representing those seriously injured or killed as a result of the negligence of others.
Trucking Accidents
Car Accidents
Medical Malpractice and Negligence
Wrongful Death
Fall-Down / Slip and Fall Accidents
Bus Accidents
Motorcycle Accidents
Dog Bites
Product Defects
Construction Accidents
Social Security Disability
Workers' Compensation / Workers' Rights
If you or a family member has been badly hurt in a car accident or other accident or by a medical procedure, call the personal injury law firm of Kirsch, Stone & Morgan at (973) 623-0100 or use our email contact form.
We Want to Hear from You
Give us your contact information and a case description for an immediate response!
Hablamos Espanol | Falamos Portugues